Camino Real
Dance Informa
World Premiere: Helen Picketts Full-Length 'Camino Real' Ballet, Chelsea Thomas, Mar 25, 2015
When leaving the theater after the world premiere of Camino Real by Atlanta Ballet, the following sentiments could be overheard from attendees: "That was so different and unexpected!"; "What a fascinating show; I'm going to have to come back just to soak it in again!"; and "Wow! That was unique! Dancers aren't usually delivering lines while dancing. Oh, and weren't the costumes and the set unusual too?!"
Theatergoers left the Cobb Energy Centre fraught with thoughts and fully involved in conversation, trying to process what they had seen. And for good reason! This production, which was inspired by Tennessee Williams' 1953 play of the same name, was truly one of a kind.
Atlanta Ballet definitely took a risk with premiering this new full-length contemporary ballet (or rather, "dance theater work" according to choreographer Helen Pickett) that featured spoken word, interactive theater usage, a brand-new score and a surreal, multi-layered storyline. But the risk was certainly worth the reward! All the elements aligned for this work and the product was a strikingly innovative achievement.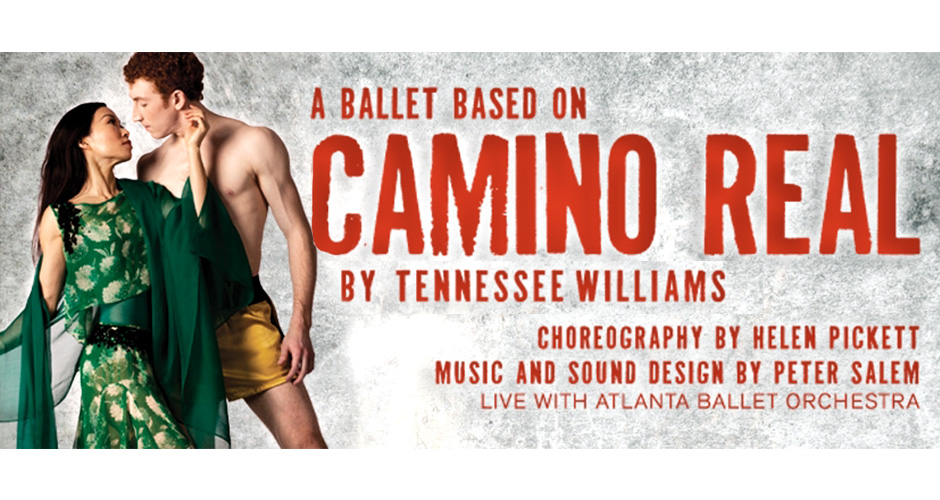 Atlanta Ballet
Director: Gennadi Nedvigin
2015/2017
Camino Real – A full-length ballet based on Camino Real by Tennessee Williams
Choreographer: Helen Pickett
Music and Sound: Peter Salem
Costumes: Sandra Woodall
Set: Emma Kingsbury and David Finn
Lighting: David Finn
Atlanta Ballet Orchestra
Winner: Best Choreographer and Best Dance Performance, 2015, Atlanta
"Gutman, the wicked hotelier, rules the Camino Real with an iron fist, and the residents of this dead-end town live in fear of him and his band of thugs. Trapped and disillusioned, they have all but given up when the arrival of our hero and former light heavyweight boxing champ, Kilroy, brings renewed hope to these lost souls and reignites their wills to live. Called "an extraordinary creative achievement" (ArtsATL), Camino Real is a rousing tale of survival and good versus evil that fuses dance, theater, and live music into one unforgettable experience."
"Camino Real." Helen Pickett, Atlanta Ballet's intrepid resident choreographer, struck gold last March with her first full-length work, a dance theater adaptation of Tennessee Williams' play. Pickett wisely distilled the somewhat surreal work into two love stories that unwound under a ringmaster's iron fist, pitting hope against defeat and honor against tyranny. Set in a densely complicated, dark-tinged realm, Pickett revealed the emotional tension and lyricism in Peter Salem's score as performers gave compelling characterizations underscored by facile technique. Added to that, several dancers carried off speaking parts with aplomb.
Cynthia Bond Perry, AJC