Empowerment Workshop for EVERYONE!
STEP INTO COURAGE, created by Helen Pickett, is an immersive creativity think-tank initiated in 2016. The workshop is designed to cultivate and expand creative potential through a unique hybrid method joining physicality, intellect and the sensory system. Helen coaches with a one of a kind skill-set that encompasses a multi-faceted career in the arts including dance, acting, writing, singing and teaching. Her extensive experience gives Helen the tools to coach participants into their artistic discovery and potential. The STEP INTO COURAGE workshop is geared toward anyone who needs a creative reboot or feels the grind of creative inertia.
This 1, 2 or 3-day workshop provides a platform for creative abundance. The collaborative nature of the workshop gives the participants chances to discover and to triumph together. It builds community. Through personal and collaborative exercises you learn that creative impulse and inspiration is ALL around you. This experience provides physical and theoretical exercises in 1st Choice, Best Choice, leadership, artistic possibility and personal and professional development. You also might find you process and take in information differently.
This workshop was created with the thought that everyone is creative, we simply need the tools to access this magnificent energy. Helen is known for the personal attention she gives to every participant. STEP INTO COURAGE is a gratifying adventure that will help any person glide into the flow that coordinates body and mind.
What's New! –  Blog
5 Reason why to start STEP INTO COURAGE
STEPS INTO COURAGE offers you the chance to find your creative power. Each step you take builds your path to creative freedom. The energy from your cumulative steps reboots and reinforces your confidence. And when we learn to manifest this potential, we start living a very sweet life.
STEP INTO COURAGE gives you new confidence in your physicality. Exercises are given that increase your physical awareness. For example, quick twitch muscle exercises, which bolsters physical reaction and balance. The confidence you build through these exercises teaches you how to trust your corporeal abilities. By creating a READY physicality the whole being becomes more attuned, therefore generating a Creative Ready-State.
STEP INTO COURAGE coaches you into the BURN!! This workshop helps you identify what you BURN for, what you NEED to do in this life. Creative energy is a constant. We must only tap into our personal well of creative potential. It is an exciting process to explore your creative possibilities.
STEP INTO COURAGE guides you to embrace and yes, enjoy, decision-making. 1st Choice, Best Choice is just one exercise we will discover through physical movement exercises. By learning how to rely on the whole body, not just the neck up, for creative decisions, we unlatch and open doors we previously could not even see.
STEP INTO COURAGE provides a fun, inclusive, collaborative space to explore. Collaboration, drawing from various resources including your workshop teammates, gives you the opportunity to envision and soon manifest your life differently. You realize how abundant this world is in terms of how it can inspire. The choices are bountiful.
Choreographic Essentials
Choreographic Essentials, created by Helen Pickett, is a unique and immersive dance think-tank initiated in 2011. The workshop is designed to develop, cultivate and expand the compositional/ choreographic and performance skill-sets of the participants. The program is geared toward professional and professional aspirant dancers, ages 17-25.
A 6-day intensive, Choreographic Essentials, draws from the extensive experience of Helen Pickett, and a guest teacher/choreographer. This experience provides a forum and offers guidance that reinforces the creative process, risk-taking, artistic autonomy and professional development. Participants will not only learn how to delegate power and manage time within a group, as a leader, but also learn how to take in more information, using the ideas of first choice, best choice and proprioception, as a muse. These are two very different positions to be in and give the dancer insight to both sides of the studio. A particular emphasis will be placed upon the generation of new ideas, and the subsequent actualization of the material generated by the participants, under the tutelage of Ms. Pickett. The final day of the workshop will feature a showing of the work created by participants.
A workshop breakdown is as follows:
Ballet Technique: 10:00-11:15 , guest teacher
Forsythe Improvisation Technologies: 11:30-1:00 w/ Pickett
Lunch: 1:00-1:30
Choreography/Composition: 1:30-5:00 w/ Pickett & Guest teacher
Duration: 5 days
Showing: 6th day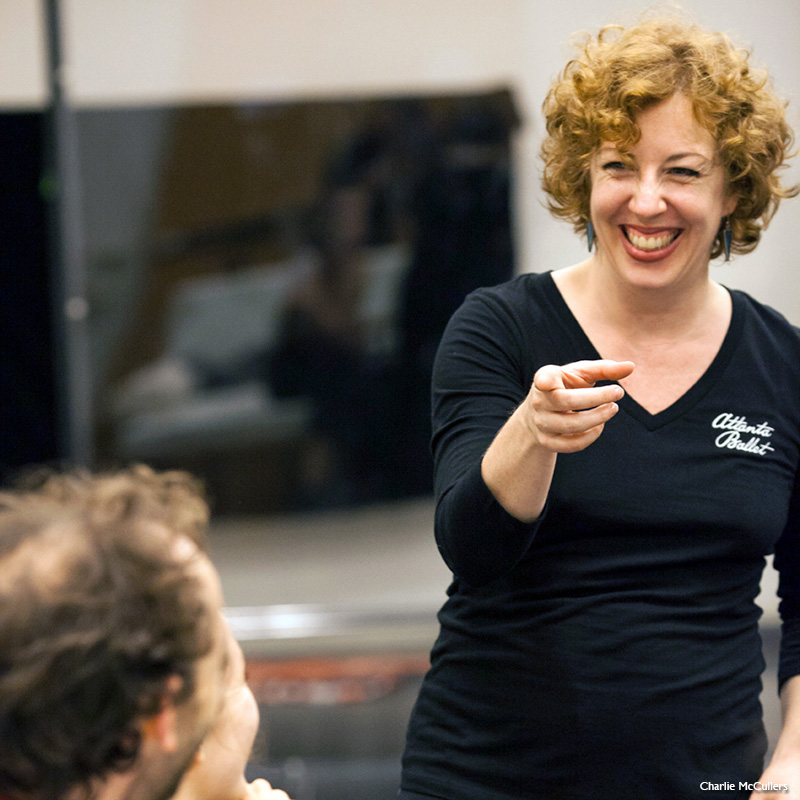 Teaching
Helen Pickett challenges her dancers to use every part of their bodies. She asks them questions to stimulate their inventiveness but also, in the case of narrative ballets, to deepen the understanding of their character. "I ask them the same questions I ask in class: What does that feel like in your body? What would the character do in this case? How would you translate the solo I've just given you to the monolog that is in this play? How does that get translated in your body?' "
Dance Magazine, March 18, 2015
Helen Pickett: Rebel on Pointe, By Wendy Perron
World-class contemporary ballet dancer and choreographer Helen Pickett shares her expertise with UMass Amherst and Five College dance students during winter break, making the most of the newly renovated dance studio in the Totman Gym.