Mission
To guide human beings into their creative potential by coaching them to access their limitless physical creativity, thus producing an integrated creative self.
In my professional life, that started with dancing and reaches to acting, teaching/coaching, writing, and choreography, I joyfully discovered that the possibility in human beings surpasses all expectations. As we dive into the pool of potential on any given day, the courage to choose surfaces, ideas form, action practiced.  To coach and create and be with artists on a daily basis is and always has been an honor I take to heart. And this 30 year long investigation with artists has folded into the coaching work I do with individuals who wish to awaken their creativity.
To manifest a creative life, we must accept our innate courage, and access our physicality. We are equipped with bountiful imaginations.
Our journey can be magnificent!
AWARDS, TALKS and PUBLICATIONS
Best Choreographer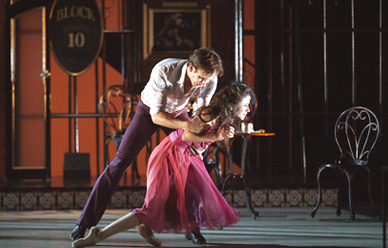 Best Choreographer, Best Dance Performance
2015, Camino Real, Atlanta, GA
Honorary Doctorate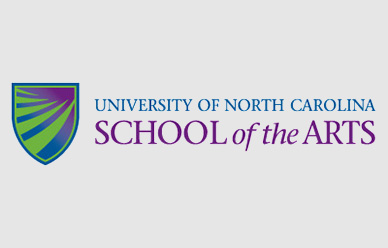 University of North Carolina School of the Arts
May 14, 2016
Helen gave the commencement speech to the graduating class.
Best Choreographer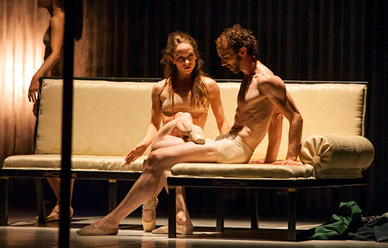 Best Choreographer
2014, The Exiled, Atlanta, GA
Creative Mornings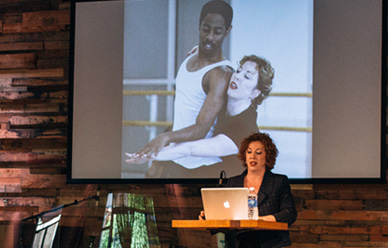 Creative Mornings Speaker
June 2014, Atlanta, GA
Topic: Freedom
Published Writing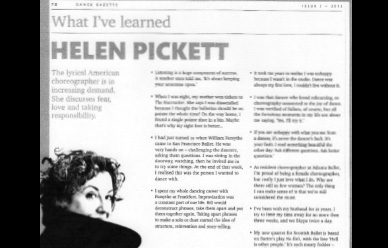 Published Writing
| | |
| --- | --- |
| 2012-2017 | Resident Choreographer for Atlanta Ballet, director, John McFall & Gennadi Nedvigen |
| 2008 | Jerome Robbins Foundation's New Essential Works (NEW) – One of the first choreographers to receive funding for a new ballet. |
| 2008 | Behind the Scenes at Boston Ballet, Book by Christine Temin – Featured choreographer |
| 2009 | Jacob's Pillow – Two week Choreographic Residency and Showing |
| 2008 | National Endowment of the Arts, Grant Awards: Kentucky Dance Council, Inc. (aka Louisville Ballet) Category: Access to Artistic Excellence. Field/ Discipline: Dance to support the re-staging of a ballet choreographed by Helen Pickett |
| 2007 | Works & Process At The Guggenheim, Mary Sharp Cronson, Founder & Producer; Excerpts from Etesian, Choreographed by Helen Pickett for Boston Ballet in 2006 |
| 2007 | 25 to Watch – Dance Magazine, Choreography |
Bio
Helen Pickett, a San Diego, California native, currently resides Brooklyn, New York.
2017 marks 11 years for Helen as a choreographer, creating over 35 ballets in the U.S. and Europe. Since 2012, Helen has been Resident Choreographer for Atlanta Ballet. She is the WINNER of the Best choreographer and Best Dance Production of Atlanta in 2015. In 2014, for her ballet, The Exiled, she was named Best Choreographer in Atlanta. Helen premiered her fist full-length ballet, Camino Real, by Tennessee Williams in 2015. Critic, Manning Harris, wrote that Camino Real would "become a legend in the dance world."
In 2005, Helen received her first choreographic commission from Boston Ballet. The New York Choreographic Institute awarded her a Fellowship Initiative Grant in 2006. In the same year and through 2008, Helen choreographed for Boston Ballet, Washington Ballet, Aspen Santa Fe Ballet, Louisville Ballet and Ballet X. In 2007, Dance magazine named Helen one of 25 to Watch. She received a Choreographic Residency from Jacob's Pillow in 2008. Helen was one of the first choreographers to receive the Jerome Robbins Foundation's New Essential Works Grant. From 2009 through 2011, Helen created new ballets for Royal Ballet of Flanders, Ballet West, Boston Ballet, Aspen Santa Fe Ballet, Atlanta Ballet, and Dance Theatre of Harlem. In the 2012/2013 season, her commissions included Semper Oper/Dresden Ballet, Vienna State Opera, Scottish Ballet, Atlanta Ballet, and Smuin Ballet. 2016-2018, her commissions include: Les Troyens, Opera by Hector Berlioz, Chicago Lyric Opera, Voices of the Amazon, a new multi-media Dance Theater performance by the Sisters Grimm, which premieres in Moscow and tours in England and Southeast Asia. Pennsylvania Ballet, Ballet West, Kansas City Ballet, Oregon Ballet Theatre, Scottish Ballet (NEW full-length, with NEW music from Peter Salem), Smuin Ballet, Tulsa Ballet and Charlotte BAllet. She was nominated for an Isadora Duncan Dance award in 2013.
Helen has collaborated, as an actress and choreographer, with installation video artists and filmmakers including Eve Sussman, Toni Dove and Laurie Simmons. Helen, a founding member of Eve Sussman's The Rufus Corporation, created the role of the Queen in 89 Seconds at Alcazar, which was shown at the 2004 Whitney Biennial, and now is in the permanent collection at Museum of Modern Art in New York. In 2007, Helen acted in Sussman's feature length film, The Rape of the Sabine Women. She choreographed the bubble dance, and played Sally Rand in Toni Dove's video installation and feature film, Spectropia.  Helen choreographed the dance sequences, for Laurie Simmons', The Music of Regret, which had its world premiere in 2006, at Museum of Modern Art in New York.
For over a decade Helen performed with William Forsythe's Ballett Frankfurt. During her last season with Ballet Frankfurt, Helen simultaneously performed with The Wooster Group, director, Elizabeth Le Compte. She acted with the Group for five non-consecutive years in the OBIE award winning House/Lights and North Atlantic. In 2005, Helen returned to the speaking role, Agnes, as a guest artist with The Royal Ballet of Flanders, in William Forsythe's Impressing the Czar. In 2009, Impressing the Czar received the Laurence Olivier Award, and in 2012, the Prix de la Critique award for outstanding performance of the year. From 2015-2017, Helen performs Agnes with Semper Oper Ballet, Dresden, Germany.
Helen created a choreographic intensive for college age choreographers entitled, Choreographic Essentials, and a motivational creative workshop for the general public entitled Step into Courage. In addition, she has teaches Forsythe Improvisation Technologies throughout the United States. Helen is currently a Distinguished Visiting Artist at University of North Carolina School of the Arts.
In 2006, Dance Europe published Helen's article, Considering Cezanne. In 2012, Emory University published her writing for the Vulnerability and the Human Condition Initiative, director Martha Fineman, that appeared on the Emory University School of Law website.
In 2016, Helen received an Honorary Doctorate from University of North Carolina School of the Arts. In 2011, Helen earned a Master of Fine Arts in Dance from Hollins University. For her Master's Thesis she collaborated with Christopher Janney, sound and light architect.
"The dance world needs more Helen Picketts."
"Helen Pickett has wrought sheer magic here,… and has created a major work that I predict will not only last, but become a legend in the dance world."
"I think Camino Real will be an instant success, and is ultimately destined to become one of the classic works in the repertoires of major companies."